Powering a company with the best and skilled employees is tough. When a company declares a vacancy, automatically a lot of tasks get added to the 'to-do list. Finding the right candidate is tough. Vyrazu Labs always suggests preparing the recruitment lifecycle strategy based on the company size, structure, and industry type.
After the declaration of a vacancy, a company may need 36 days to fill the offered position, a study says. Along with a sound time, the process also requires a lot of money at the same time. Startups or even giant companies are not willing to invest that much time or money while hiring every new employee. If you too are not willing to spend this much time and money on new employee hiring, after a time, you may find that your recruitment lifecycle process is running with reduced efficiency and effectiveness.
However, with a little yet super effective help, you can power your recruitment lifecycle process. The process will run like a well-oiled machine and you will enjoy new definitions of effectiveness and efficiency.
Recruitment lifecycle
The recruitment lifecycle is all about a process that includes various important stages such as identifying, attracting, screening, shortlisting, and interviewing eligible candidates. Generally, a full life cycle of recruitment includes 6 main stages such as preparing, sourcing, screening, selecting, hiring, and onboarding. You need to empower each stage so that you can easily hire an expert and skilled employees without spending a lot of time.
How can you power your existing recruitment process?
Empowering the recruitment process is no more a big deal with Human Resource Management Software. Such types of software applications simply smoothen all the stages of a recruitment procedure and let a company enjoy fast hiring, cost-effectiveness, quality workforce, and so many other things. Just a single software application like HRMWARE is enough to bring the required pace and ease to all your recruitment stages.
Full life cycle recruiting includes all 6 stages and it is also known as 'end to end recruiting' or '360 recruitment'. End-to-end recruitment can be more effective as well as easy when you will connect your recruitment process with Human Resource Management Software.
How an HRMS like HRMWARE can improve each recruitment stage or how you can power your entire recruitment lifecycle- we are going to discuss below. We will discuss each stage and ways to improve it. So, without more ado, let us begin!
Preparing
The very first stage of the recruitment lifecycle is 'preparing'. Here, you need to decide what you need at the first move. You should prepare a list of your requirements regarding each job post vacancy. Experience, qualifications, number of vacancies, number of new positions, duties, and so on you need to decide at this stage.
Based on your requirements, you should prepare a job description for each post in a clear and concise tone. It will help you to get the right candidates with the same qualities.
Preparing job descriptions and publishing them to the best portals may seem a bit critical. After publishing, you need to check the status of those job advertisements and accelerate the process. If you try to do all these things manually without any kind of automation, you are going to face a lot of problems. Mainly the process will be slow and to get a skilled employee you have to wait for a long time. Even skilled employees do not prefer to join an organization that does not have a fast recruitment procedure.
All these problems can be easily solved with human resource management software. How? An HRMS like HRMWARE is able to equip your recruitment process with the best tools and automation. It will help you to better prepare your recruitment requirements. It integrates data analytics tools so that you can analyze information and make wise data-driven decisions.
From preparing job descriptions to post on various popular job advertisement portals you can do everything with an advanced HRMS. After job ad posting, you will be able to track the status of the ad and plan the next important step without any error. The software as a service application will also help you in preparing and publishing job advertisements directly on your business website and inform a large number of people about the vacancies of your organization.
Sourcing
This is the second and another most important stage of the recruitment lifecycle process. Here, you need to be truly resourceful and concentrated on the candidate experience. You need to communicate with the willing candidates in the best way. In order to develop a true talent pool, you need to post job advertisements across multiple leading job portals. After posting job advertisements, you need to keep track of each applicant from various portals. We know this task is tough.
But an HRMS like HRMWARE will help you in integrating all the leading job boards and you will be able to see all the incoming candidate profiles in a single place. You do not need to run here and there to track all applicants for various job posts. Such an HRMS will let you directly connect with various leading job advertisement portals like Monster, Indeed, Careerbuilder, Hiretual, LinkedIn, Naukri, and so on.
With a human resource management software solution, you will be able to widen your sourcing options. It will help you to save a lot of time as here you do not need to perform any manual task. Everything will be performing with the right amount of automation. When you can easily connect with all leading job portals and keep track of everything without any error, you can make better decisions to improve the overall setting of your organization.
Screening
Without any doubt, candidate screening is a long as well as time-consuming process. Many recruitment professionals say that it is like searching for a needle in a haystack. A single mistake in screening can make you shortlist a wrong candidate and eliminate a truly deserving candidate. If you try to perform these tasks manually, there will be a lot of errors. But candidate screening can be completely error-free if you power your recruitment process with an HRMS solution.
It will help you in parsing candidate profiles online and you will be able to decide the shortlisting procedure. While screening applicants' profiles, you should prepare two lists: one will be must-haves and another will be nice-to-haves requirements. When you have a perfect list of requirements, you will be able to hire better employees and power your organization to the best level.
Selecting
In order to hire the best candidates, you have to enable a variety of assessments based on the roles you are going to hire. The selection process includes many types of interviews such as telephonic interviews, video interviews, aptitude tests, personality tests, language assessments, code assessments, and so on.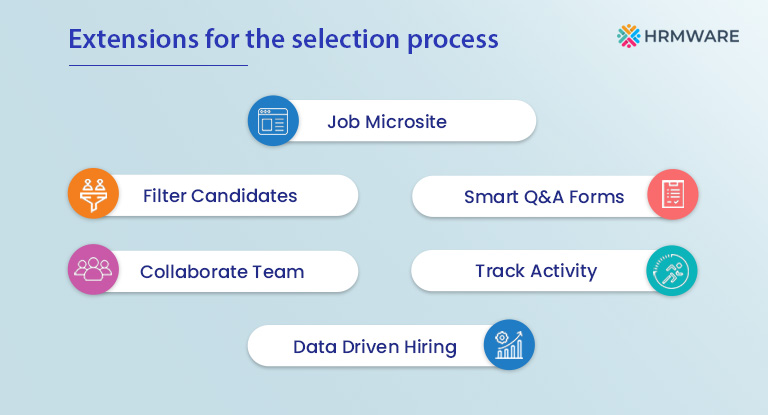 You need to design interviews in the best way so that you can hire the best candidates who are truly talented as well as skilled. Popular HRM solutions will integrate with various different platforms so that you can easily design interviews, start assessments, and check the performance of all applicants without facing any interruption.
Hiring
In this stage, background screening will be conducted. It is truly important as you should know candidates a bit better before you issue an offer letter. With an advanced HRMS solution, you will be able to integrate a background screening application. In this way, you will be able to conduct various background checks, get status updates, and access results easily. There are a lot of quality background check extensions available on the market and based on your requirements, you can easily pick one.
The hiring process requires a lot of paperwork with several signatures from authorities. An HRMS like HRMWARE will help you in enjoying the benefits of e-signature. You will be able to complete the paperwork tasks faster and hire the best candidates as soon as possible.
Onboarding
Just after hiring quality employees, neither your responsibility is finished nor the recruitment lifecycle process is completed. After hiring a candidate, you should add him/her as an employee to your organization. The onboarding process should be easy as well as interesting for all your employees. You can create an account in an HRMS like HRMWARE and take an employee on-board. Here, an employee will get a lot of options where he/she will be able to add self-information and explore many other important things to know your organization a bit better.
When newly hired employees will get a place to explore more about you and they can see themselves as a part of the organization, they will be better connected to the organization.
With human resource management software like HRMWARE, an employee will be able to check all organizational news, holiday lists, performance hours, give attendance, apply for leaves, check salary details, and so on. When an employee can check all these things without the help of any other employee of your organization, he/she will get a more transparent image of you. An organization that maintains transparency with employees enjoys a better employee retention rate and more productivity.
The entire life cycle of recruitment is of these 6 stages and you need to power all these stages with the best tools and technologies. Once you power these stages rightly, you will be able to enjoy added ease, automation, and you will save more time and money.
Having an HRMS means, you will work smarter in each stage of the life cycle of the recruitment process. No matter how big or small the organization is, such a software solution can make it grow faster. A startup with such a system will get quality employees faster and improve the overall recruitment process of the organization. An effective recruitment process helps an organization to get skilled employees faster and build a better company impression. If you are yet to have an HRMS, this is the best time to enable it.